Letting go means releasing the thoughts and emotions in our lives that hold us back. Here are some quotes about letting go to help you take your eyes off the rearview mirror and focus onto the road in front of you.
1. When you let go, you are truly free.
Letting go can be difficult. Yet letting go is one of the most important things we can do for one another. Letting go helps us to live in a more peaceful state of mind and helps restore our balance. It allows others to be responsible for themselves and for us to take our hands off situations that do not belong to us. This frees us from unnecessary stress.
2. If you want to let go of something, if you want to forget, you cannot hate.
Hate is a waste of energy. If you want to forget something or someone, never hate it, or never hate him/her. Everything and everyone that you hate is engraved upon your heart; if you want to let go of something, if you want to forget, you cannot hate.
3. You will find that it is necessary to let things go; simply for the reason that they are heavy.
You will find that it is necessary to let things go; simply for the reason that they are heavy. So let them go, let go of them. Tie no weights to your ankles. Rehashing things and holding onto negative feelings are incredibly draining. Instead of dwelling on a recent letdown, make a decision to instead simply let go of your sadness and focus on all the positive things the future holds. It may be hard to do at first, but once you manage to let go, you'll feel much lighter and freer.
4. Time heals almost everything. Give time TIME.
Sometimes, doing nothing is wonderful way to let go. If you have lost a loved one, allow time to heal the wound. No matter how grave a problem, time heals all wounds. A year or two down the road, you will find that the pain of letting go has receded.
5. Cry with someone. It's more healing than crying ALONE.
Crying is a form of release from the pain we're feeling. Cry alone and you'll keep crying those same tears over and over again. Cry with someone and those tears have the power to heal you once and for all. Crying alone lets you experience a small sense of relief. But it's crying with someone trusted that can really heal you. Someone who understands you, is willing to listen, and hold your hand through your pain. Sometimes what we need is just a shoulder to cry on, a listening ear, and an understanding heart.
6. Sometimes letting go provides you with an opportunity to gain something better.
There are things that we don't want to happen but have to accept, things that we don't know but have to learn, and people whom we can't live without but have to let go. You have to let go when you feel you're hurting too much. You have to give up when love is not enough. You have to move on when things ain't like before 'coz for sure there's someone out there who'll love you even more.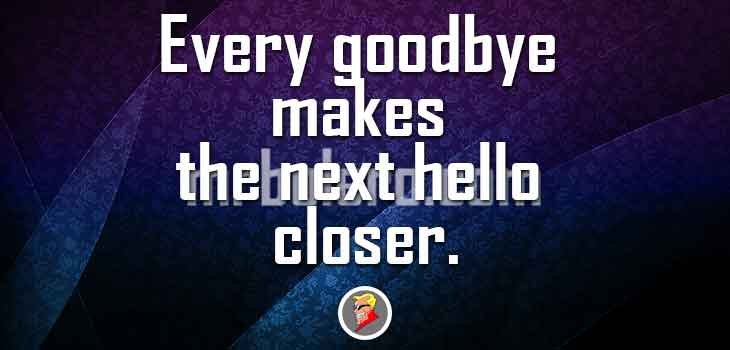 7. Every goodbye makes the next hello closer.
Change is having to say good-bye, staying strong and treasuring the next hello. Why does it take a minute to say hello and forever to say goodbye? Goodbyes are like hellos, you have to have courage to say hello to someone and then courage to say goodbye. Goodbye makes the next hello closer.
In life, there are many things that we have to learn to let go. We have to let go of situations, things, memories, people and even ourselves. It's easy to form an attachment to people and things. When you've formed an attachment to people and things, it can be a very painful experience and feeling when you realized that it's time to let go. Even the mere thought of not having that person or thing in your life just squeezes your heart in pain.