When it comes to loving a special person, it's nice when your heart agree in what your mind say or vice versa.
It's like:
Mind: "hey dude you're doing right and I know everything is right. "
Heart: "yeah dude mind was right, keep it up I feel it's alright."
But what if your mind is not agreed in what your heart telling you to do or vice versa? What will you choice is it the mind or the heart?
I know it's hard to decide what to choice especially when it's about the mind and the heart. If you just follow your heart only and leave what our mind saying.
Like:
Mind: "hey dudes! Stop this I know you're just hurting yourself, let her/him go"
Heart: "no dude, stay a little more it will change I feel that she/still loves you, you love him/her right so stay".
If you follow your mind and leave what your heart shouted you to do.
Like:
Mind: "That's good dude it's ok, keep it up I know that's the better thing to do."
Heart: "hey dude, I feel you love him/her, follow me then you'll be happy I feel it."
Sometimes it comes in some point that we become martyr and also selfish. And it also ends up hurting yourself too.
Guys here are some Quotes that will help you somehow to think what is better. Have time to read some.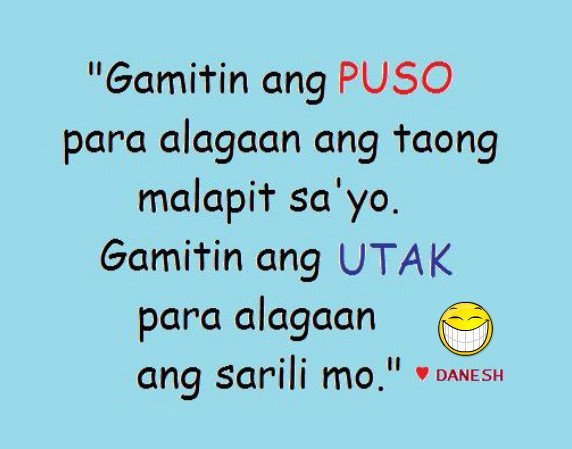 Dapat balanse. Kasi kung ma-over use ang heart, mapapagod yan. Kung panay gamit naman ng utak, baka magka mental problem. Hehehe.
nag-aaway nnman ang utak at puso.. sabi ng utak s puso,
"kalimutan mo na siya.. "Tanga mo talaga!" sagot ng puso.. ,
"kala ko ba matalino ka? pano ko kakalimutan e lagi mong iniicp!"
ang isip. kaya nga ang isip ay nasa taas kesa sa puso eh. diba?
so para saan yung puso? kaya nga tayo may puso para hindi lang puro isip, para makaramdam din tayo…
Minsan ang sinasabi ng isip, iba sa nilalaman ng puso kaya pati damdamin, nalilito! Hindi malaman kung alin ang dapat sundin. Ang isip na nagsasabi ng dapat? O ang pusong nagmamahal ng tapat?
SUNDIN MO KUNG ANO ANG GUSTO NG PUSO MO AT ANG TAMANG DESISYON NG ISIP MO PARA SA KINABUKASAN NIYO!
aLam nyo ang pagdedesisyon ay di nababase sa kung puso ba o isip .. kadalasan meron ding sitwasyon na kailangan sundin sila pareho .. .
Matagal kong tinagong mahal kita. Ginawa ko ang lahat para sayo. Binigay ko na pati puso at kaluluwa ko pero hindi mo pa rin ako napansin. Ang masakit pa dun, nang naglakas loob akong sabihin sayong mahal kita, ang sinabi mo lang, "Ows? Talaga?"
mahal kita, OO! yun ang totoo.. at kahit wala ka sa tabi ko ikaw pa rin ang
laman ng puso ko. sabi mo noon mahal mo ko pero kung tatanungin kaya kita
ngayon, anong sasabihin mo? ako pa rin ang mahal mo o ang taong nakasama mo
nung WALA ako?
*Umiiyak puso ko. Lam mo baket? Kasi ikaw pa ung minahal ko! Lam ko namang
alam mong masakit, eh… kasi, dba, may mahal rin siyang iba? Kaya minsan sabe
ko… "Hindi kaya ginagantehan mo lang siya?" Naisip ko kasi, yun ren ginagawa
ko sa kanya…
mahirap maging "ghost" sa taong mahal mo.. ur always der pro d nya feel presence mo.. nagpaparamdam k n pro balewala p rin.. cguro gnun tlga.. lalo na kung walang 3rd eye ang puso nia!
kung lahat magbbgo at lahat li2pas.. d q ccrain ang pinagsmhan natin.. pro kung mklimutan mo q.. wla aqng mggwa.. basta aq? itatago kita s puso q hanggang s huling tibok nito..
kapag cnayang ng 1 tao ang pagmamahal mo, xempre ayaw mo na.. pro bakit pag my dumating n iba di natin maibigay ang lahat? dhil b takot k na? o may naiwan p rin s puso mo pra s kanya?
nag-aaway nnman ang utak at puso.. sabi ng utak s puso, "kalimutan mo n xa.. "Tanga mo talaga!" sagot ng puso.. , "kala ko b matalino ka? pano q kakalimutan e lagi mong iniicp!"
Minsan nalilito ka kung ano b ang dapat sundin ang puso ba o ang isip. Mas marami parin ang puso ang sinusunod dahil hindi ito pwedeng magkamali lalo na kung malinis at tapat ang hangarin nito
Heart Vs Mind Quotes

The difference between your mind and your heart: Your mind tells you what is smart and your heart tells you what you're going to do anyway.
You can ignore the signs however you can't ignore the heart or mind.
Difference between mind and heart; Your mind tells you the smart thing to do, while your heart tells you what you're going to do anyway.
Use your heart first but when you have to make big decision, use your mind.
It's okay to follow your heart but take your brain with you.
We need at least two things to live in life. Heart to feel love and brain to understand it. Otherwise we will have broken hearts and confused minds.
In LOVE ano ba dapat ang sundin, ang PUSO o ISIP?
Oh see? I hope it helps you in making decision. Guys, alam ko mahirap magpasya kung ano ba talaga, nasasayo kung ano ang pipiliin mo. It's nice to choice both of them, because you will not doubt in what you will do. But much better ask God what to do and what is best for you. I know he will answer you. Thank you for reading I hope you like this, share it to others if you want.