Tagalog Kabit quotes – Patama sa mga MISTRESS/KABIT/KERIDA/OTHER WOMAN
A MINUTE OF HEAVEN FOR AN ETERNITY OF HELL. There are many possible reasons why some people would agree to being the other woman/man. One would be that this person loves this person so much that beside the fact that this person is already married, would rather "share" with the legal spouse.. Another would be that the kabit finds the love and attention that she/he is looking for and could not find it somewhere else.. Definitely true. Ang ibang kabit kasi masyadong panatag na sila ang pipiliin kesa sa original. But come to think of it, kung ikaw ang pipiliin, bakit ka tinatago? Bakit hindi ka kayang iharap publicly? Keeping you as his secret mistress is an obvious sign that he is not ready to lose his spouse. As a Mistress, you will never have the last laugh. Because as a Mistress you will never be allowed to walk down the aisle with your lover.
So many women get involved with a married man because he makes promises of leaving his wife and getting into a committed relationship with them, gave them all the luxurious things they want; jewelry, branded clothes and even house and lot, and they usually end up waiting forever for him or end up just being his mistress- nothing more. Kahit na magkaron ka pa ng napakaganda at napakalaking bahay, kung kabit ka naman, wala din.
Mistress has no right to demand, lumugar ka kung san ka dapat lumugar. Pinasok mo ang ganyang sitwasyon, kaya dapat alam mo kung ano ang dapat at hindi dapat. In the first place, kung alam mo ang tama, wala ka dapat sa sitwasyon mo ngayon. It's not about the money dear, it's about dignity.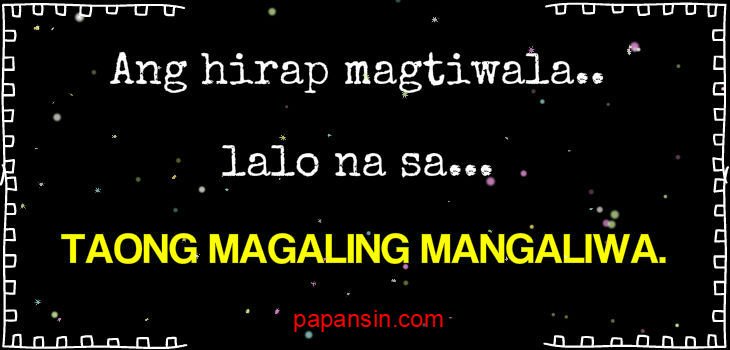 Kapag once nang nawala ang tiwala, mahirap na talagang ibalik. Kaya ikaw wag mong hanapin sa iba ang mga pagkukulang ng partner mo, dahil minsan ba naisip mo rin na may mga pagkukulang ka rin, kaya lang siya tanggap niya kung anong meron ka, dahil marunong siyang umintindi sa mga bagay-bagay na ganyan at marunong siyang makuntento, 'di tulad mo! Sabi nga, "Makuntento ka na sa mahal mo kahit alam mong maraming hihigit sa kanya. Dahil 'di mo ba naisip na mas marami ring hihigit sayo, pero ikaw pa rin ang pinili niya…"
It's better to stay single than having a relationship with a married man. Think twice before making yourself a mistress. It is important that you ask yourself why you would want to get involved with a married man in the first place? There are plenty of single men out there for you to get to know. Wag puro puso ang pinakikinggan, dapat ginagamit din ang utak. Bago ka kumabit, siguraduhin mo munang walang sabit. If you know he's taken, back-off! Don't get yourself into something you can't easily escape off in the end. One thing you should always keep in mind is that his wife and family will always come before you, no matter how many problems he claims to have at home, he'll always come back to his one and only love, his wife and definitely not you.
People nowadays are so hooked up to all social media sites like facebook. Some found the love of their life through social media, pero bago ka makipag relasyon sa taong hindi mo pa nakikita at nakakachat mo lang, please do some research about them. He may tell you he loves you, promise you everything and even tell you the sweetest words, but in the end of the day you'll find yourself crying in deep pain because you're only number 2 and you can never be number 1.
Being a mistress will play a big role on your self-esteem, making you slowly start to feel bad about yourself. You will feel alone and not important, because you're a secret mistress. No matter how much he tells you he loves you, you will still not be getting that official healthy committed relationship that you will eventually need and want for yourself. Having an affair can be fun, but when that stage of excitement slowly wears off and you enter another stage where you crave that closeness of an official one on one committed relationship, then you will start feeling the stress and pain of being a mistress. There are of course chances that he will end up leaving his wife for you, but is it worth waiting around to find out if that will happen? There are no guarantees. Stop loving someone who is inlove with anybody else. Start loving yourself.