If true love comes to your life, never let it go or you'll be regretful about it until your last breath. Being in love usually is used in a romantic sense when you meet your significant other transforming a normal relationship into a deeper one without further interest in others.
When you truly care for someone, you don't look for faults, you don't look for answers, you don't look for mistakes. Instead, you fight for the mistakes, you accept the faults, and you overlook excuses.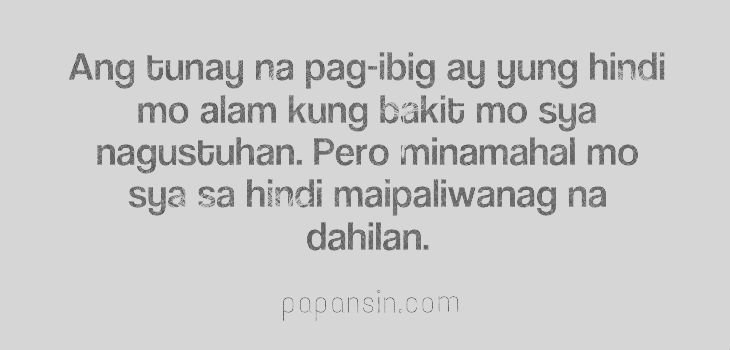 It means that when you love someone that it doesnt matter what they look like but what is on the inside. And since Cupid is painted blind he doesnt love with his eyes but with his mind (he loves whats on the inside)

The truth often hurts but it can set us free. Lying in a relationship should never be an option. Though it might introduce temporary happiness, you'll end up facing its dire consequences later on. We should be reminded that an imperfect but honest relationship is far better than a perfect one rooted by lies and deception.
How can we know whether a love deserves a second chance or not? Total forgiveness is easier said than done especially if the offense committed by your partner has to do with unfaithfulness. Trust, once broken, is impossible to bring back to how it used to be.
Some people nowadays use love to get what they want. Sadly, many still fall for this trap hoping that the love promised to them is true. There's nothing wrong about trusting the power of love, yet it should never be an excuse to close your mind. Let your mind stop your heart from being foolish. Guard your heart since the pain and sufferings you can experience from a false love can be unimaginable.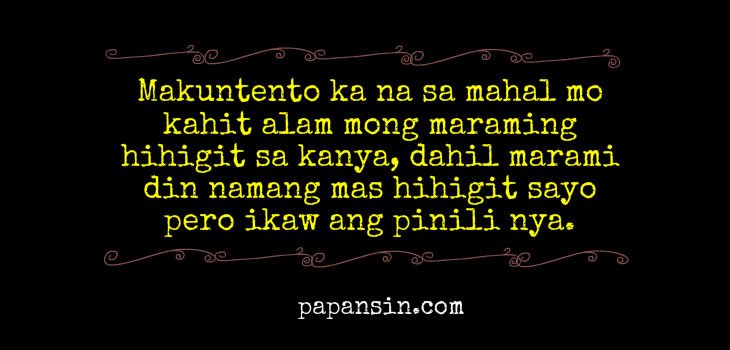 Finding someone to fall inlove with is nice. But finding someone who would keep you falling, even after you've fallen, is irreplaceable. Express your love as much as possible even though it may lead you to hardships and pain. Remember that love is best shared than kept. You can only appreciate the beauty and happiness bought by love if you suffered from it at one point.

Learn that when you plan to get even with someone, you're only letting that person continue to hurt you, learn ignoring the facts do not change the facts, learn the easiest way to grow as a person is to surround yourself with people smarter than you are, learn that no one is perfect until you fall in love with someone, And learn that life is tough, but you can be tougher.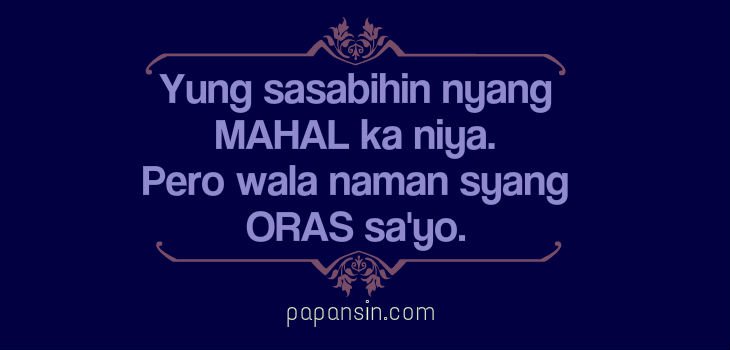 Ang time ay mas mahalaga kaysa sa love. Ayaw mo maniwala? Ganito kasi yan: Kapag binigay ko ang love tapos wala naman akong time sayo, maniniwala ka bang love kita? Hindi diba? Pero kung ibibigay ko ang time ko para sayo, I'm sure maaapreciate mo na love kita
Love isn't blind or deaf or dumb – in fact it sees far more than it will ever tell. It is going beyond yourself and stretching who you are for someone else. Being in love entails seeing someone as you wish they were: to love them is to see who they really are and still care for them. Love means that you trust the person, would do anything for the person, know that person is with you through thick and thin, isn't afraid to be seen with you. make sure they treat you right.