Check the Collections Of Moving On Quotes Tagalog :
Moving On Quotes Tagalog
Ipinagpalit ko lahat para sayo,
iniwan ko siya, dahil lang sayo…
kse mahal kta.. Pero iniwan mo din ako…
ngayon, alam mo ba kung sino kasama't kadamay ko?
… siya, na iniwan ko, dahil lang sayo
Minsan ang daling sabihing
mahal mo sya pero ang totoo,
mas mahal mo yung isa!
pero bakit mo pinipilit na mahalin yung isa?
Simple lang! Syempre, para makalimutan mo
yung mahal mong talaga! Tama ba?
Sana.. Di na lang kita nakilala..
masaya naman ako nun e,
kqhit nung wqla ka pa!
Di tulad ngayon..
Pinapahirapan mo lang ako,
alam kong di mo sinasadyang makilala ako..
Ako rin eh, di ko sinasadyang mahalin ka!!!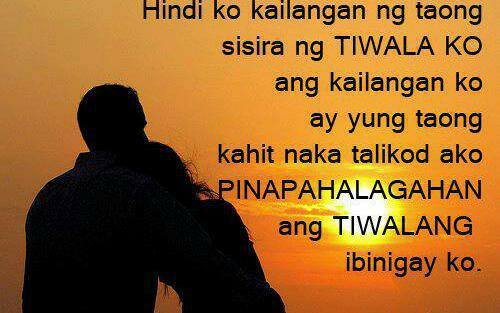 English Moving on Quotes :
It is better for girl to sleep a hundred years
and be kissed and awakened by the right prince
than to stay awake and be kissed
a hundred times by the wrong frog.
Falling for someone the first time is easy…
it's the second time around,
after you have fallen and trusted someone
to catch you and they didn't…
when it becomes difficult to let yourself fall again.
Now thanks to you…
I'm scared to fall in love again.
First of all, you broke my heart
when I expected you to be the last one to do it.
And now I'm left with my heart broken
and in pieces and you don't even bother to notice.
It's sad because all along
I thought you knew me better
than everyone else….
but now I am starting to wonder
if you even knew me at all.