Tagalog Love Quotes : A JOURNEY OF A BRAVE HEART
---
1. "Sa isang sulyap mo, buo na ang maghapon. Ngiti mo pa lang napapawi na ang pagod ko. Paano pa kaya kapag nakuha ko na ang matamis mong "OO", mabuo na kaya ang malungkot kong mundo?"
Who doesn't want to love and be loved? Love is the most beautiful thing in the world. It covers up all pain and makes someone feel wonderful again. Love is the only thing that does not hurt.
Looking for signs are the usual ways we do, almost of us do when it comes to looking for the perfect one. We pray and hope that when that person comes along he or she should be the almost perfect one, the bride or groom material, the one we are looking for. We will do all the things just to get her/him. We make promises and tell them that we will keep it. Sweet words every day, sweet thoughts, flowers all over the corner, chocolates, dinner dates, surprises and plans in the future.
When we found that one, there is sudden change of hearts, loneliness turns to happiness. Every morning is a blessing, is one thing to count. We are very excited to wake up, can't decide on what clothes to wear, what shoes to use, what cap or bag to put on. We make sure that every day should be perfect and memorable. We always want that every single day should be treasured. It just the two of you that matters Happy hearts on the road!
---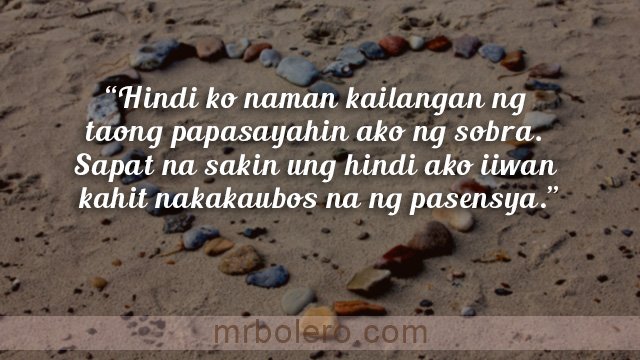 2. "Hindi ko naman kailangan ng taong papasayahin ako ng sobra. Sapat na sakin ung hindi ako iiwan kahit nakakaubos na ng pasensya."
                We do all hope for a smooth-sailing relationship. We don't want heartbreaks, heartaches, arguments, screams, loud cries and worst case scenario, break-ups. We do hate these things, but there is no such thing as a perfect relationship. Everybody works for it; it's not that in just a snap everything would be smooth and perfect. But it happens naturally, problems and challenges were along the road waiting for us, evaluating us if we can survive it. What we need this time are stronger hearts, a team work, a partner that we can lean on. And this was the usual problems that were encountered. Most of us don't have a strong partner that can hold on until the last chapter. Or maybe both you are not the perfect duo for these problems.
As the saying goes "It takes two to Tango". After the honeymoon stage, we should be ready for facing relationship problems. The two of you should develop your hearts and mind to be battle-ready. Learn to eliminate things that might cause you to tear apart. Mold every single day with an open hearts. Every person has its weakness and that is why you are there to help her/him stand after her/his failures.
Most important thing is learn to extend your patience. Learn to forgive and forget. Stand up again after the trials. Have a happy hearts after a long journey.
---
3. "Sana ang love katulad ng sinasabi ng dentist, sabihin mo lang kung masakit at lalagyan natin ng anesthesia."
                Heartaches do come along. It will test the foundation of your love. It would really come to a point that both of you would get hurt. Painful words, dull days and lonely hearts are overflowing. It might get to a point that no room for forgiveness. We are longing for remedies. We don't want to feel the unbearable pain.
But what really matters here is the love. Look back to your good old days, mesmerize the sweet memories. And why not do again all those honeymoon stages things? Do whatever it takes to save the relationship. As what the oldies said, "Love conquers all." In the end you will realize that these glitches would just add up to the foundation you have. That it would teach you so many things that you can use for another challenges.
---
4. "Minsan may nagtanong sakin kung nainlove na daw ako, napangiti ako sa sinabi nya kasi naalala kita."
This would be the hardest part. Accepting the fact that one day you wake up that there is no more you and her, no more I love you and sweet kisses, I miss you, I want to be with you. No more sweet thoughts and acts. No more coffee with love. No more good nights and good mornings. All rainy days would be lonely again. Dark messy rooms and scratches. No food. Black eye bags. Drunken days. Wasted and sleepless nights. Miserable every day.
Bargaining that maybe you can patch up things again. That you would forget all the things happened. Asking to have good memories again, begging to be back to be in your arms again. But it is not easy like that. You have to consider things. Assess what causes the break-up and think if you can really make things back to good again.
It so happen that not all happy beginnings will have happy endings.
---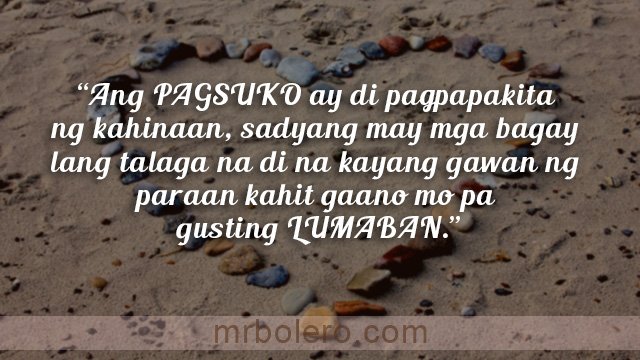 5. "Ang PAGSUKO ay di pagpapakita ng kahinaan, sadyang may mga bagay lang talaga na di na kayng gawan ng paraan kahit gaano mo pa gusting LUMABAN."
Time can heal wounded hearts. This is what we usually hear after break-up, but it is true. You just have to believe in it. Accept that the two of you are not together anymore. Learn to forgive and forget that past. Moving forward is a healing process; it wouldn't take one day and one night just to move one. Give time for each moment. If you want to grieve? Give yourself time to cry. If you want to get drunk, then be it. If you want to feel lonely then feel it. It takes time. Do not rush things. Everybody knows that this is the hardest part.
Learn to love again by starting love yourself first. Learn to trust again. Learn to appreciate things again. Because this time you are much bolder, stronger and ready to love and be loved again. Wipe away all the fears of loving and trusting again. Bring back the charming smile and glow in your face. Every day should be a new hope. DO NOT STOP LOVING. Because you cannot find the right one of you stop taking risk on loving again.
LET'S SEE WHERE YOUR BRAVE HEARTS CAN TAKE YOU.
---