Welcome to our Best Tagalog Pick Up Lines 2012! Enjoy!
inoy pick up lines are very popular unique kind of quotes here in the Philippines and If I'm not mistaken there are already thousands of pick up line exist in their own category like Love Pick up lines, Green Pick up lines, Sweet Pick up lines, English Tagalog Pick up lines, Pangasar Pick up lines, cheesy pick up lines and non-sense pick up lines. But the category of Pick ups that I really like the most is the Love and sweet saying Pick up lines.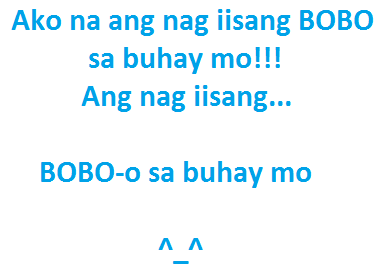 This are the compilation of sweet pick up lines in tagalog.
1. Minamalat na naman ang puso ko..
*** paano kasi, laging sinisigaw ang pangalan mo..
2. Ikaw ba may-ari ng Crayola??
*** ikaw kasi nagbibigay ng kulay sa buhay ko..
3. Uy papicture tayo!!
*** para ma-develop tayo!!
4. Kung ikaw ay bola at ako ang player, mashushoot ba kita??
*** hinde, para lagi kita mamimiss..
5. Can i take your picture??
*** coz i want to show Santa exactly what i want for Christmas!!
6. Exam ka ba??
*** gustong gusto na kasi kitang i-take home eh!!
7. Lecture mo ba ako??
*** lab kasi kita..
8. Centrum ka ba??
*** kasi you make my life complete!!
9. Miss pwede ba kita maging driver??
*** para ikaw na magpapatakbo ng buhay ko..
10. Mahilig ka ba sa asukal??
*** ang tamis kasi ng mga ngiti mo..
11. Pinaglihi ka ba sa keyboard??
*** kasi type kita..
12. I hate to say this but… You are like my underwear..
*** coz i can't last a day without you!!
13. Ibibili kita ng salbabida..
*** kasi malulunod ka sa pagmamahal ko..
14. Pwede ba kitang maging sidecar??
*** single kasi ako eh..
15.Me lisensya ka ba??
*** coz you're driving me crazy eh..
16. May kilala ka bang gumagawa ng relo??
*** may sira ata relo ko.. pag ikaw kasi kasama ko, humihinto ang oras ko..
17. Grabe nakakatawa yung mga pick-up lines noh?? hahaha! May alam ka pa bang iba?? Wala na akong maisip eh..
*** coz all i ever think of is you..
18. I'm a bee..
*** can you be my honey??
19. Nakakatakot diba ang multo??
*** pero mas nakakatakot kapag nawala ka sa buhay ko..
20. Am i a bad shooter??
*** coz i keep on missing you..
22. Naniniwala ka ba sa love at first sight??
*** Oh gusto mong dumaan ulit ako??
23. Mabilis ka siguro sa mga puzzle noh??
*** kasi kakasimula pa lang ng araw ko, pero nabuo mo na agad..
24. Excuse me.. Are you a dictionary??
*** because you give meaning to my life..
25. Bangin ka ba??
*** nahuhulog kasi ako sa'yo..
26. Pustiso ka ba??
*** kasi, can't smile without you..
27. Pagod na pagod ka na noh??
*** maghapon kana kasing tumatakbo sa isipan ko eh..
28. Me butas ba puso mo??
*** kasi natrap na ako sa loob, can't find my way out!!
29. Anung height mo??
*** ha?? pano ka nagkasya sa loob ng puso ko..
30. Hey, did you fart??
*** coz you blew me away!!
31. Sana "T" na lang ako..
*** para i'm always right next to "U"
32. Are you Jamaican??
*** kasi Ja-maican me crazy!!
33. Nde tayo tao.. Nde tayo hayop.
***BAGAY tayo. BAGAY tlga tayo.
34. Ako ay isang exam..
***kaya sagutin mo na ako…
35. Favorite Subject mo ba geometry
***kasi kahit saang angle ka tignan ang ganda mo eh! Which one is your favorite?
napanaginipan kita kagabi, pero nagising ako na unan ko lang ang yakap ko. pero alam mo kung ano gusto kong mangyari? yung mapanaginipan ko yung unan ko tapos magising ako na ikaw ang yakap ko!
Kung ako'y pamasahe, ikaw naman ay gasolina…
Alam mo kung bakit?
Hope you also like this list of sweet pick up lines tagalog…