1.Walang babaeng mawawala, sa lalaking nag-aalaga ng tama
We have a saying "a happy wife is a happy life". Real Man should always take care of his woman and treat her like a princess no a maid.
---
2."OO" aaminin ko bobo ako pero masasabi mo bang matalino ako kung ikaw ang iniisip ko?
Love defies anything. Love has no boundaries. Love has no time, place and age. Love Doesn't care who you are, what you from, how rich or poor you are, how fat or thin you are, how ugly or pretty you are. And sometimes LOVE is Blind. But who cares. Love is a feeling that you can't express. It's a mix emotion of everything.
---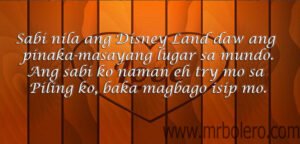 3.Sabi nila ang Disney Land daw ang pinaka-masayang lugar sa mundo. Ang sabi ko naman eh try mo sa Piling ko, baka magbago isip mo.
Disney Land is a great place, it has an amazing view. Lots of fun place to go. But if you are with the one you love everywhere you go is special. Every place is a great place because if you are with someone you love a simple place like "turo – turo" well be special.
---
4.Iwan mo na bahay mo at lupa niyo.Libre naman tumira sa puso ko eh!
Give up everything you have cause i will give you everything including my heart. you can live with it whenever you like.
---
5.Kung magiging bahagi ako ng iyong katawan pipiliin kong maging DUGO.. Mapunta man ako sa iba't ibang parte ng katawan mo… Still, babalik at babalik pa rin ako sa PUSO mo..
In life, we keep coming back with the people we truly Love. Even when you are world a part. Just like the choros song "Magkabilang Mundo – Jireh Lim "
Dito ay umaga at dyan ay gabi
Ang oras natin ay magkasalungat
Ang aking hapunan ay
Iyong umagahan
Ngunit kahit na anong mangyari
Balang araw ay makakapiling ka
---
6.Wala na akong dapat balikan sa nakaraan dahil MASAYA na ako sa KASALUKUYAN kahit walang KASIGURADUHAN
Past is part of our life but we should not be stocked on it. We need to let go even if it hurts. We should face the present even we don't know what happens next. Moving on is the hardest part to do, but if you do, for sure your life will be better than what you are expecting.
---
             7.Dear Crush:
Sa bawat pag-ngiti at pag-tawa mo, hinihiling ko na sana ang dahilan ay ako.
Every smile has a reason. There's always someone behind a smile a joke, your family, your bestfriend and your special someone.
Sometimes you meet someone, and it's so clear that the two of you, on some level belong together. As lovers, or as friends, or as family, or as something entirely different. You just work, whether you understand one another or you're in love or you're partners in crime. You meet these people throughout your life, out of nowhere, under the strangest circumstances, and they help you feel alive. I don't know if that makes me believe in coincidence, or fate, or sheer blind luck, but it definitely makes me believe in something. SMILE
---
8.Maaring hindi ikaw ang unang minahal ko, pero masisiguro na ikaw na ang huling hahawak ng puso ko.
Your first love isn't always the first person you kiss, or the first person you date. Your first love is the person you will always compare everyone to. The person that you will never truly get over, even when you've convinced yourself you've move on.
---
9.Ang pag-inig ko sa'yo ay parang PGHINGA. Bakit ko ititigil kung alam kong hindi ko kaya
Love is passion, obsession, someone you can't live without. If you don't start with that, what are you going to end up with? Fall head over heels. I say find someone you can live crazy and who'll love you the same way back. And how do you find him? Forget your head and listen to youe heart.
---
10.MAKUNTENTO ka na sa mahal mo kahit alam mong marami pang higit pa sa kanya. Dahil marami rin naman higit sayo pero ikaw PINILI nya!
Love is not just about finding the right person, But creating right relationship, It's not about how much love you have in  the begining, But how much love you built till the End.