Our collection of love quotes is easy to navigate and new quotes are added continuously. Here, we compiled some of the most beautiful and heartfelt Tagalog Love Quotes for him and for her so don't hesitate to share.
1. Minsan andyan na sa harapan mo yung taong mamahalin ka ng tapat at lubos, kaso humahanap ka pa rin ng taong walang kwenta kaya nasasaktan ka.
Sometimes the right person is just right there… in front of us. But we're too busy looking after the wrong person. Only if you just stop focusing on people who doesn't deserve any of you, you'll find out that the one who is willing to give you the love you needed is always right there beside you.
2. Magalit ka man sa taong mahal na mahal mo, Alam mo rin sa sarili mo na sa isang lambing niya lang sayo eh mawawala na galit mo.
Arguments and fights are part of any relationship. But once your partner start doing sweet stuffs, you will be amazed how soon your anger fades away. That's the magic of love, so unexplainable. In simple ways, all things will be back into normal.
3. Di moh masasabing MATATAG ka sa isang RELASYON, kung sa simpleng AWAY lang HIWALAYAN agad ang naiisip mong SOLUSYON.
Misunderstanding is always present in relationships. Break-ups aren't the solution. Stop blaming. Blame games serve no purpose as there is no fun in crying over spilt milk. What has happened has happened and blaming someone for it is not going to solve anything. Just accept what has happened and let the moment pass. You can sit and talk about it when both of you are in the right mood.
4. Kahit gaano man ako kaingat at kagulo, tumatahimik din naman ako tuwing nagseselos at nasasaktan ako.
A lot of men complain that girls talk too much. We are noisy, we are nosy, and we just can't stop talking. But when we're silent as dead, boys start wondering what've they done wrong. When a woman is angry at you, it is easier to tell that she was being silent to let you know that she is in fact mad at you. But be more scared if she totally ignores you and does not make a single sound. You're in deep trouble. When a girl is silent, she's either hurt, over-thinking, falling apart, crying inside, jealous or all of the above. Sometimes, the best way to approach a silent woman is through a silent touch or a silent hug.
5. Kahit gaano ka pa katalino pag tinamaan ka ng pag-ibig, nabaliw ka na nabobo ka pa.
It's weird how love strikes you at the most unexpected time and somehow in some way it disappears exactly at the moment you are ready to face it. No matter how smart you get, you became dumb and even dumber when the spell of love hits you.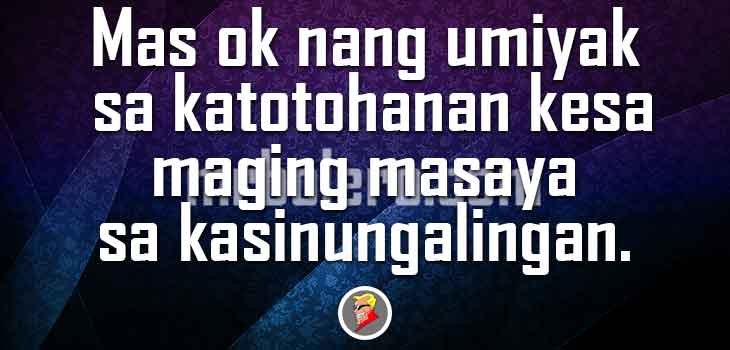 6. Mas ok nang umiyak sa katotohanan kesa maging masaya sa kasinungalingan.
Hurting someone with the truth is better than making them happy with a lie. We are all humans. Capable of the same mistakes; capable of equal good. We all deserve the truth. It doesn't matter if it makes them angry, or makes them cry. Telling someone a lie just because you don't want to hurt anyone is building them up falsely.
7. Ang LALAKING sobrang manlambing, sila rin yung masyadong matampuhin.
Minsan kung sino pa yung lalaking sobra kung maglambing at mangulit e sila pa pala yung sobrang sensitive at matampuhin. Isn't it cute when guys are sulking? We are all got used to that girls are always the sensitive one when it comes to relationship. When guys' sulk, it's actually kinda cute..