English and Tagalog Quotes para sa mga manloloko at niloko
For cheaters, it's a good time to be alive because cheating has never been easier.
1. Why cheat if you already have one? Cheating is for losers. There's no room for cheating when you're already hooked up. Remember, you're not fooling your partner, you're fooling yourself.

2. At some point, you will realize that you have already done too much for someone,That the only next possible step to do is to leave him/her alone.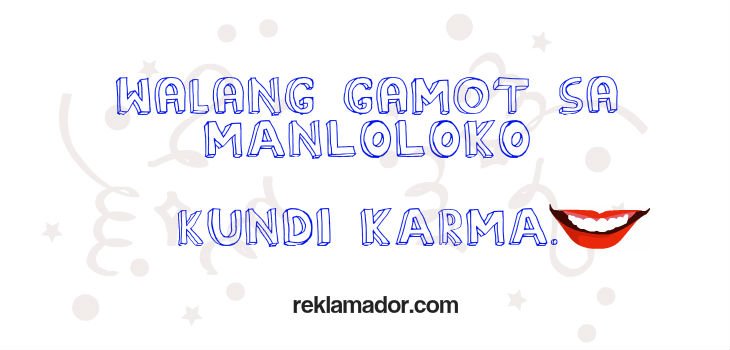 3. You can try your hardest, you can do everything and say everything, but sometimes people just aren't worth trying over anymore, they aren't worth worrying about.. It's important to know when to let go of someone who only brings you down. Let the karma do the revenge.

4. Learn to let go of the things that hurt you, because if its really meant for you, you shouldn't be hurting at the first place. You only have 3 choices when it comes to love: give up, give in and give it your all. You just need to decide which one is worth it.

5. When we fall seriously inlove, we always wish that the feeling would mutually grow and stay forever… But sometimes, no matter how perfect a relationship may seem.. and how many months or years you've been together.. People just change and forget their promises of forever.

6. The word sorry should be BANNED until people learn to use to it. Dahil habang tinatanggap mo ang sorry nya, paulit ulit nyang gagawin ang mga nakasanayan nya. Give yourself a break. Wag padadala sa sorry lalo na kung alam mong may possibility na ulitin nya ulit ang ginawa nya.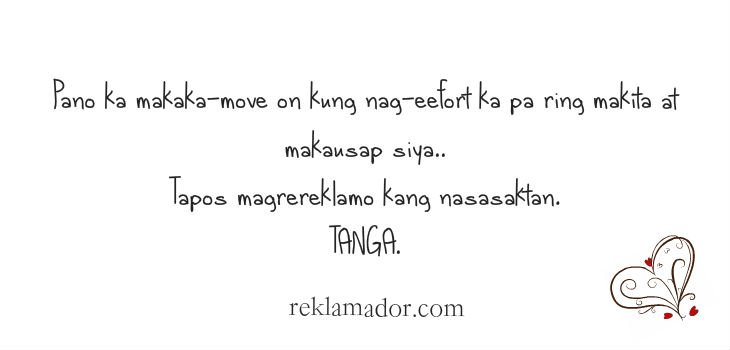 7. Hindi kailangan maging matalino ng isang tao para magkaroon sya ng isang tapat na pagmamahal.. Minsan sapat na ang katangahan para hindi ka nya iwan. Pero kung sobra na, pwede ba? TAMA na.
It's going to be painful to say goodbye to someone that you don't want to let go of, but it's gonna hurt even more to ask someone to stay if you can never make the relationship work