Everyone has times in their life when they feel demotivated, lost, and unhappy. You're in a rut, and you don't know how to get out of it. Life may keep piling it on, but here are some essential things to remember during downfall for how you can climb out of your hole and get back on track.
---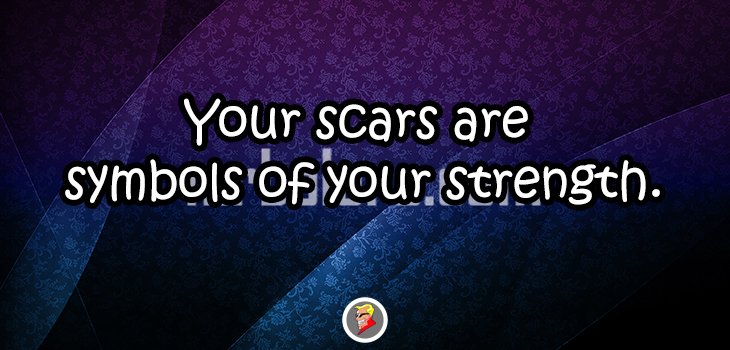 1. Your scars are symbols of your strength.
Don't ever be ashamed of the scars life has left you with.  A scar means the hurt is over and the wound is closed.  It means you conquered the pain, learned a lesson, grew stronger, and moved forward.  A scar is the tattoo of a triumph to be proud of.  Don't allow your scars to hold you hostage.  Don't allow them to make you live your life in fear.  You can't make the scars in your life disappear, but you can change the way you see them.  You can start seeing your scars as a sign of strength and not pain.
---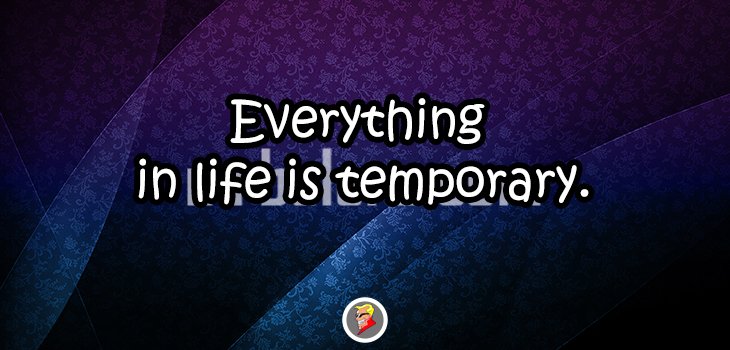 2. Everything in life is temporary.
It seems that most of us are constantly fighting for things to be 100% secure and never-changing, but that's not really how it works. Everything in life is temporary and ever-changing. Our very lives are temporary. Nothing is guaranteed. The challenge in life is learning to embrace, accept, and respect that fact. If things are going good, enjoy it because it won't last forever. And if things are going bad, don't worry. It can't last forever either. Change your perspective and embrace the temporary.
---
3. Worrying and complaining changes nothing.
Those who complain the most, accomplish the least. It's always better to attempt to do something great and fail than to attempt to do nothing and succeed. It's not over if you've lost; it's over when you do nothing but complain about it. If you believe in something, keep trying. Don't let the shadows of the past darken the doorstep of your future. Spending today complaining about yesterday won't make tomorrow any brighter. Take action instead. Let what you've learned improve how you live. Make a change and never look back.
---
4. Pain is part of growing.
Sometimes life closes doors because it's time to move forward. And that's a good thing because we often won't move unless circumstances force us to. When times are tough, remind yourself that no pain comes without a purpose. Move on from what hurt you, but never forget what it taught you. Just because you're struggling doesn't mean you're failing. Every great success requires some type of worthy struggle to get there. Good things take time. Stay patient and stay positive. Everything is going to come together; maybe not immediately, but eventually. Remember that there are two kinds of pain: pain that hurts and pain that changes you. When you roll with life, instead of resisting it, both kinds help you grow.
---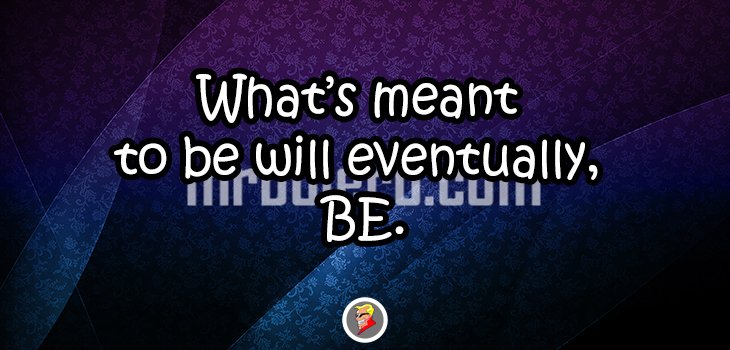 5. What's meant to be will eventually, BE.
True strength comes when you have so much to cry and complain about, but you prefer to smile and appreciate your life instead. There are blessings hidden in every struggle you face, but you have to be willing to open your heart and mind to see them. You can't force things to happen. You can only drive yourself crazy trying. At some point you have to let go and let what's meant to be, BE.
---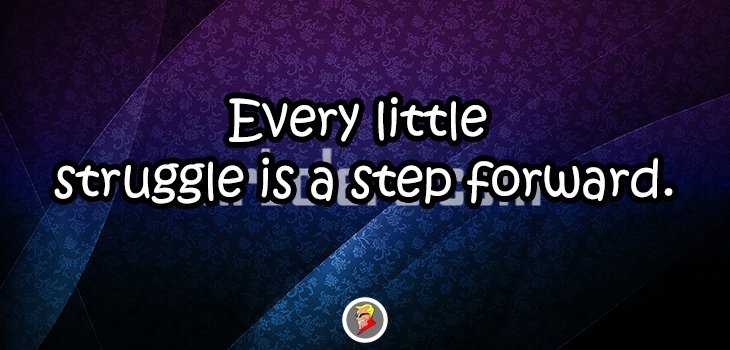 6. Every little struggle is a step forward.
We sometimes have difficulties in life. We tend to be disappointed at ourselves when things do not go well and easily give up without trying anymore. It is normal. I do that, you do that, and everyone does that. When times are tough, encourage and remind yourself the proverb "no pain, no gain." Move on from what harmed you, but never forget what you learned from the past. Just because you are having a hard time does not mean you are failing. It is another chance for you to open a new chapter in life.
---
7. Other people's negativity is not your problem.
Be positive when negativity surrounds you. Smile when others try to bring you down. It's an easy way to maintain your enthusiasm and focus. When other people treat you poorly, keep being you. Don't ever let someone else's bitterness change the person you are. You can't take things too personally, even if it seems personal. Rarely do people do things because of you. They do things because of them.
---
8. The best thing you can do is to keep going.
If you believe you have failed, then you have.  If you believe you don't have the ability to succeed, then you don't.  If you believe you can't handle the pressure of achieving your goals, you can't.  If you believe you're not successful, you aren't.  Failure only exists in your own mind!  The moment you decide to give up or stop working toward your goals, failure is born. An obstacle, setback or delay means only one thing:  it's not time for your goal to be completed yet.  That's it!  It doesn't mean you failed; it doesn't mean you're weak; it doesn't mean you'll never achieve your goals.  It simply means you're not done yet.  You've got to keep moving forward and find a way over, around, or through the obstacle.