Break ups are tough, but accepting the end and moving on is even harder. Life works in strange ways. Sometimes, you just don't "click" with a guy completely. Never forget… after the rain, the sun always comes out. It may be raining now, so take out your umbrella, keep walking, and sooner than you know, the sun will shine brighter, and will bring a smile on your face. Here are some helpful tips to forget your ex.
---
Tanggapin mo na kahit anong mangyari, ang natapos na ay natapos na. Ang nakaraan ay nasa nakaraan.
You have to accept that the relationship is over. Don't even try to pick up the pieces because you'll only hurt yourself. Acceptance is the first step to moving on and getting over your stupid ex. Make that step. Once you've accepted that it's over, don't dwell on it. Don't overthink or overanalyze everything. Don't dwell on the what-ifs or the might-have-beens. It's fruitless.
---
Isa sa mga pinakamahirap gawin ngunit epektibo ay ang pagputol sa komunikasyon na nag-uugnay sa iyo sa kanya.
Another way on how to forget an ex-boyfriend fast is to cease all contact with him. If your ex is still communicating with you, cut it off. Whenever you hear from him, you are going to be reminded of when you both were together. After you get through the heavy emotions that go together with a separation, then you might be able communicate with him again and even turn out to be friends. Until then, courteously ask him to stay away from you until you can sort things out and recover. He may still be concerned about you and he ought to respect your wishes. Just bear in mind to be polite and don't become aggressive or angry.
---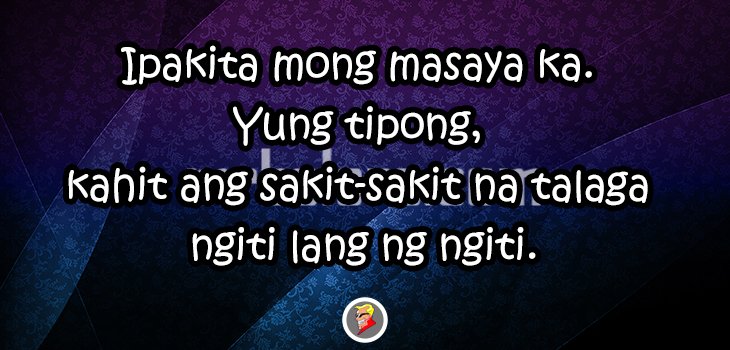 Ipakita mong masaya ka. Yung tipong, kahit ang sakit-sakit na talaga ngiti lang ng ngiti.
Please smile even if it's killing you. Don't ever give him the satisfaction of knowing he hurt you like that. We can smile even though we are hurting and we can feel happy even though we are unhappy. It's called strength. Let them know you're okay. Smile. Even if it hurts. Smile through the pain. There's a good chance you'll feel better, too. Breathe, because it's all over.
---
Magsimulang mag-enjoy, magliwaliw, humanap nang mga pagkakaabalahan.
You really need to find something to do on your own that you'll enjoy. Put on your prettiest dress or your best jeans and top, fix your hair and make-up, and go out. No matter how miserable you are, you absolutely have to get out of the house. If you stay inside, with all those memories and all those reminders, you'll only make yourself feel worse. Even if you feel like crawling in bed for yet another week…don't.
---
Kuha ng tabo o kaya isang malaking drum na lang. Sa gabi, magkulong ka sa kwarto mo. Umiyak ka hanggang sa mapagod ka.
It's okay to mourn the end of the relationship. Whether you were together for a few months or you lived together for years, you have the right to your complicated emotions. Allow yourself to cry, reflect on the experience, and accept that it's really over.
---
Surround yourself with friends o ang mismong pamilya mo. Kaya mo yan. Sasaya ka rin naman pag sila ang kasama mo. Masasanay ka rin na wala siya. 
Your family and friends want to be of assistance to you. They love you and don't like seeing you unhappy. These are the people you are supposed to spend time with at the moment. Be around friends, engaging in activities you used to do before you even started dating your ex. Let those who are concerned about you help you move ahead to better and bigger things. This is just one of the ways on how to forget an ex-boyfriend fast.
---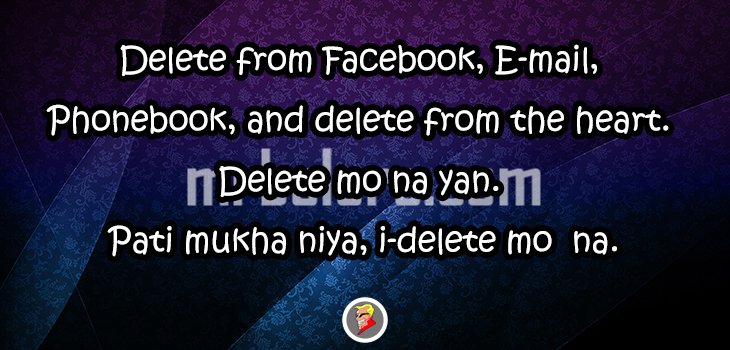 Delete from Facebook, E-mail, Phonebook, and delete from the heart. Delete mo na yan. Pati mukha niya, i-delete mo na.
Delete him or block him on all your social media accounts, and delete all your old messages and emails so you don't spend any time going through them. Make a new email address to make it even more effective. The urge to contact him will wane little by little until you don't remember him at all. It's tough, but it's something you have to do. Being constantly aware of what's going on in his life will be very gut-wrenching unless you do this.