Every Valentine's day it is common to give roses to your loved ones to show how much you love them. But do you know that every color of roses has its own hidden meaning? Giving the right color of rose help you to give the right message. Read this and know what color suits your feelings, let the roses talk for you!
Red roses
Red roses are the traditional symbol for love, romance, and will always be a way to say "I love you." The red rose has also reflected beauty and perfection. Deep or dark red roses can reveal an unconscious beauty.
Pink roses
Words like admiration, gentleness, grace, gladness, joy and sweetness are just a few ways to describe the meaning behind the pink rose. A pink rose can also convey happiness, gracefulness and admiration.
Yellow roses
Bright, cheerful and joyful are what come to mind when thinking of a yellow rose. Yellow roses create warm feelings and provide happiness. Giving yellow roses can tell someone the joy they bring you and the friendship you share.
White roses
White roses, the purist of colors, represent innocence, purity and charm. White roses are traditionally used in weddings and can represent new beginnings. We believe that white roses can also express remembrance and innocence.
Orange roses
Orange roses evoke energy, and can indicate enthusiasm, desire and excitement. Giving orange roses can symbolize your passionate romance and share your excitement of the relationship with your loved one.
Lavender roses
Love at first sight or just an enchanting way to say, "I love you!" Lavender roses can offer a daily reminder of your love and eagerness to grow your relationship.
Novelty roses
Passion Growers has about 30 different novelty roses which can provide a unique and fun way to add a twist to your rose giving. Consider giving a novelty rose to add a twist to a message you're trying to say. For example, a yellow rose with a red tip can mean friendship or falling in love.
Salmon roses
A slightly pinker shade of orange, the meaning behind salmon-colored roses evoke the same message as orange roses. Salmon roses can indicate enthusiasm, desire and excitement. Give salmon roses as a way to share your desire for someone; and they'll know how you truly feel.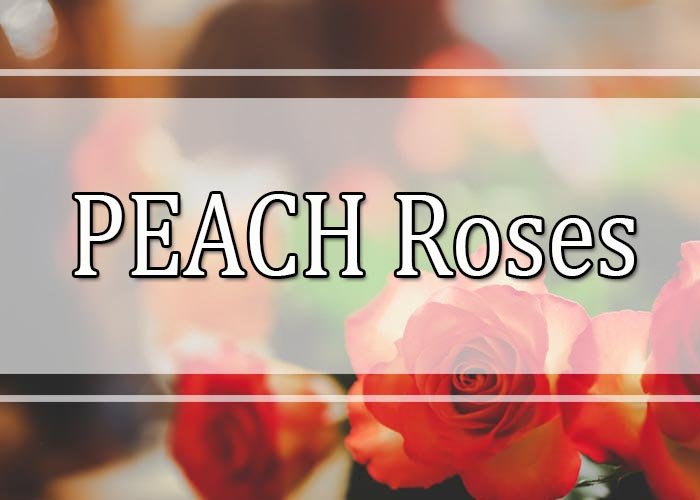 Peach roses
Are you grateful for someone or just want to show your appreciation? Then consider giving a peach-colored rose. A bouquet of peach roses shows your deep appreciation and gratitude or just an elegant way to say "Thank You!"
Cream roses
Cream roses are indicative of charm and thoughtfulness. They go well with pink "thank you" roses which allow you to send two messages in one bunch!
Green roses
Green is the color of life, abundant growth, and constant renewal of life and energy. The green rose signifies the constant rejuvenation of spirit, and is therefore a messenger of cheerfulness.
But sometimes the numbers say everything, it also says something, the following are guidelines for the numbers of the roses you will give:
A single rose of any color depicts the utmost devotion or a way to say "thank you". It is good to be given to a friend, family member or anyone you want to say thank you.
Two roses entwined together communicate "marry me" (a red and white rose entwined means unity). It is common to give in proposals.
Six Roses signify a need to be loved or cherished. It is frequently given to crushes and one sided love.
Eleven roses assure the recipient they are truly and deeply loved.
Thirteen roses indicate a secret admire.
Source: