Breakups can be devastating. Understand that every person and place in your life has a time and space. Many breakups may seem like the end of the world, but with a little inspiration it can be easier than you think to move on with your life. Take a moment to check out our collection of Tagalog Breakup Quotes below.
1. Hindi ginawa ang BREAK UP para masaktan at lumuha. Ginawa ito para ilayo ka sa maling tao na akala mo tama.
You just never know what's around the corner, and you can't hold the hand of who you're supposed to be with until you let go of the hand you're currently holding. There's good in every situation, and in order to get through a tough break up and on to the next chapter in your life, you have to appreciate that what you had may have been good, but something better is on its way, and you're a stronger person now because of what you've been through.
2. Tigilan na kung ayaw na sayo. Huwag nang yakapin ang nanlalamig sayo. At higit sa lahat, palayain mo na ang hindi sayo.
Don't settle for a relationship without love. You may think that you'll be able to convince the other person to love you given enough time, but frankly this is incredibly unlikely. You and the other person won't be happy and that's not fair to either of you. But keep in mind one very important thing: If you love someone then your one and only job as a lover is to make that person happy. If you don't believe you can make him or her happy then accept the fact that it will never work.
3. Hindi mo natitiis ang isang tao dahil mahal mo siya pero natitiis ka niya dahil alam niyang mahal mo siya.
You can't withstand someone because you love them. But he can withstand you because he knows you love him. He is comfortable that you will not leave him no matter what.
4. Magiging okay din ang lahat kahit break na kayo, andyan pa mga friends mo na makakapagpasaya sayo.
Just because he/she broke up with you or doesn't want you back doesn't mean that you're worthless. There are plenty of other people who want you and would be willing to treat you even better than your ex. Find things that make you Smile and laugh. Surround yourself with friends and people who care. Not only will you feel better, your ex will notice how happy you are and maybe regret rejecting you.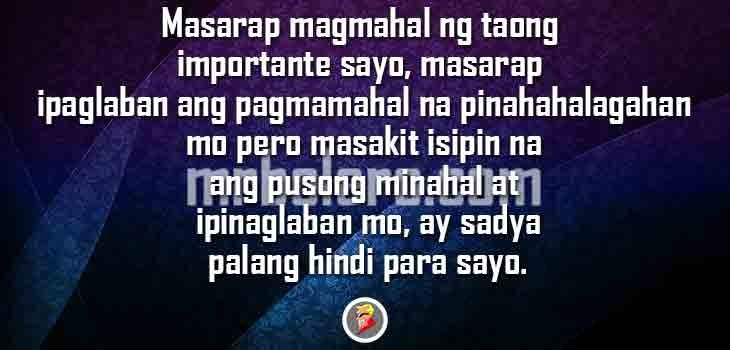 5. Masarap magmahal ng taong importante sayo, masarap ipaglaban ang pagmamahal na pinahahalagahan mo pero masakit isipin na ang pusong minahal at ipinaglaban mo, ay sadya palang hindi para sayo.
Facing reality versus our expectation is the hardest. In your head, you were going to marry this guy, have a big house, and the 2.5 kids. Now, during the break up, it's gone. Don't give up hope. Have faith that you will find someone who can give you what you want.
6. Dapat alam mo kung kailan ka dapat KUMAKAPIT at BUMIBITAW.. di naman kasi lahat ng minamahal dapat IPAGLABAN, dahil minsan yung inaakala mong MASAYA sayo, mas sasaya pala pag PINALAYA mo..
People who made up such a large part of your life at one point are not always meant to be in your life forever. It is difficult to understand how to detach yourself from someone you love the most and to accept the reality that they will no longer be part of your present. True love is when you love someone so much, all you want is for them to be happy, even if their happiness means that you have to let them go, and walk away.