If there's one thing that people don't seem to be able to get enough of, it's l-o-v-e. We collected Tagalog Relatable Love Quotes that will inspire you to love a little harder, hug a little tighter, and generally be more giving.  We are pretty sure that these quotes will instantly boost your mood.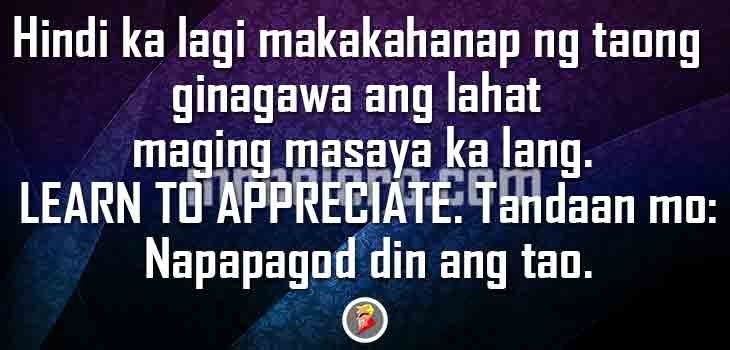 1. Hindi ka lagi makakahanap ng taong ginagawa ang lahat maging masaya ka lang. LEARN TO APPRECIATE. Tandaan mo: Napapagod din ang tao.
Life is scary man; anything could change at any moment of any day. You just gotta learn to appreciate what you have while you have it. Learn to appreciate everything while you still have it, because the common mistake of a person is appreciating something when it's already gone!
2. Ang daming dahilan para hindi kita mahalin. Pero may isang dahilan kung ba't hindi ko magawa yun. Mahal kita. Yun lang yun.
Everyone is different. And despite of the differences, you will still love the person. This doesn't make anyone better or worse than anyone else. If you want to love someone, you need to take them for everything that they are, good and bad. Because when you're in love, you see perfect person beyond his/her imperfections.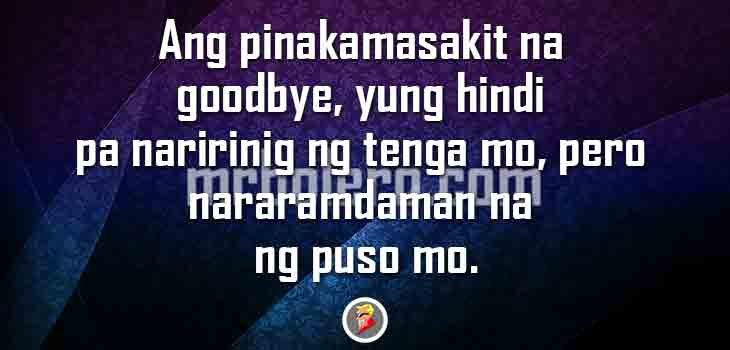 3. Ang pinakamasakit na goodbye, yung hindi pa naririnig ng tenga mo, pero nararamdaman na ng puso mo.
Of all goodbyes, the kind that which hurt the most was the one your ears never heard of, yet your heart knew it's already been said. The hardest goodbyes are the ones never said, and never explained. You're just left behind.
4. Mas maganda maghintay sa tamang panahon kesa masaktan ng paulit-ulit sa maling pagkakataon.
In the end, it's still best to wait for the one we want rather than settle for what is available. It is still best to wait for the one you love rather than settle for the one who is around. It's still best to wait for the right person, because life is too short to waste on the wrong one. There's no need to rush. If something is meant to be, it will happen. In the right time, with the right person, for the best reason.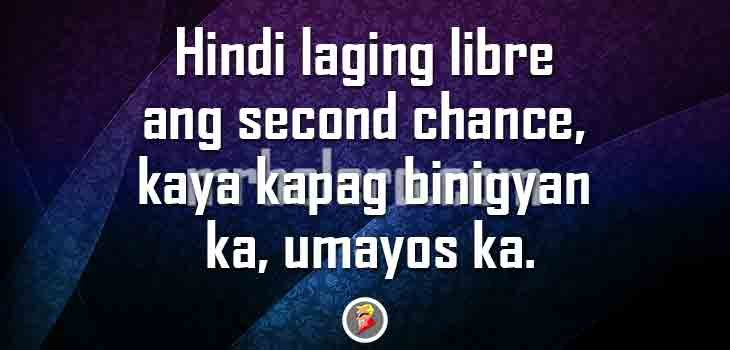 5. Hindi laging libre ang second chance, kaya kapag binigyan ka, umayos ka.
Second chances aren't always free. Second chances are a gift, not a hand-out. Learn from your mistakes, try harder, and strive for something better. If you're lucky enough to get a second chance at something, don't waste it.
6. Wag magmadali para hindi magkamali, sabi nga nila.. "The best things in life comes to those who wait patiently."
Never rush to be in a relationship. When you rush into something, you could end up with someone you do not want to be with. You could end up regretting the relationship. Good things come to those who wait. Rush it and you'll find heartbreak.